We chatted with Alie Shaper of Chronicle Wines about her inspiration behind As If "Gratitude" Pétillant-Naturel, a sustainably-made blend of Gewürztraminer and Sauvignon Blanc.
Winemaker Crush: Chronicle Wines' Alie Shaper
by Mary Kong-DeVito
September 21st is World Gratitude Day. What better day to drink As If "Gratitude" Pétillant-Naturel from New York winemaker Alie Shaper of Chronicle Wines?
We chatted with Alie about her inspiration behind this sustainably-made blend of Gewürztraminer and Sauvignon Blanc with aromas of fresh clementine, young peach, guava, white rose, and jasmine flowers. Its complex flavors of orange zest, ginger root, lychee, apricot pit, rose, and jasmine tea all evolve in the glass as you sip. So refreshing and delicious!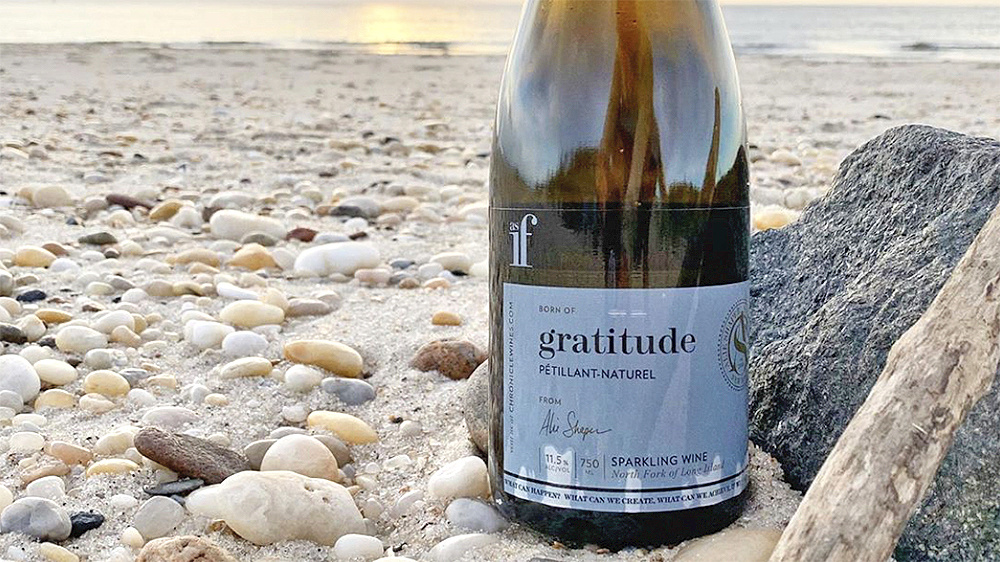 Alie: "Gratitude" is the fourth (and somewhat unplanned) addition to the As If Wines collection, and it was inspired by my mother. Out of any person I've ever known, she lived more than anyone by the principle of gratitude, long before it became the "it" word of the year. She was an amazing example of how to hold gratitude front and center. She had her personal struggles and demons that followed her, but she held close the silver linings of those experiences, and never lost sight of all the ways in which her life was lucky and extraordinary.
When she passed away in 2018, I wanted to honor her with this wine for two reasons; because she instilled in me this mindset, and because everything that she and my father gave me has enabled me to have so far lived an extraordinary life of my own. For that, I hope to send out a huge "thank you" to the Universe with the Gratitude Pét-Nat.
The wine itself is a natural chameleon; firstly because pét-nats, if you let them, can be quirky and a different animal from year to year. I like to be somewhat minimalist when I make this wine; I don't aggressively filter it, nor do I disgorge it after ferment, so it retains some lees in each bottle. When you drink this wine, you can pour gently off of the lees, or give the bottle a gentle shake for a totally different palate and tasting experience. Plus, after some time on those lees, you'll start to taste bready and marzipan characters, yummy! Secondly, I'm not so sure that I'm going to use the same grapes every year for Gratitude… I've always enjoyed playing around with varietals and blends, and besides, there is so much to choose from out there. It's like I get to be a painter with a different set of colors each year. So keep your eye on the upcoming 2020 vintage!
DCanter: 2020 has been quite a year. Within all the uncertainty that this year brings, what are you most grateful for?
Alie: I went to Australia in February to be with my partner Tim and his family, as I do each year for three months during grape harvest season. Not long after I got there, the pandemic really began to blow up, and my stay got extended out to six months. Through the experience of lock-down and isolation, together with my teenage step-son schooling from home, and all of us coping as well as anyone could under the circumstances, my appreciation for the people in my life came into sharp focus.
It hadn't been part of the plan, but Tim and I ended up getting married in July, after being engaged for only five weeks. I'm so thankful to call Tim's family my own, to have Tim as part of my NY family, for our two communities of friends, and the beautiful places that we live. There isn't much more to life than our people, our tribe, and the love we can give to one another.
DCanter: What do you want people to think about when they're enjoying this wine? What is your personal "message in bottle" to them?
Alie: Ohhh, so many things...I wish people to feel happiness and ease. I truly believe that so much of our happiness in life can stem from our sense of gratitude, and gratitude is a choice that each one of us can make. This is a thing that is easier to say and acquire by some, because circumstances and backgrounds are not the same amongst everyone…but I hope that Gratitude can inspire its pursuit.
As humans living in a deeply-intertwined world, I think it's each of our obligation to walk in gratitude, as much as our personal worlds make it possible. It's the opposite of greed and entitlement. I believe that gratitude, and the diligent attention to the silver linings in all of our experiences, generates sympathy and empathy. Within sympathy and empathy, love and compassion thrives. And "what the world needs now, is love, sweet love…"
DCanter: Truly inspiring words, Alie. Thank you.
Celebrate Gratitude Day today and everyday with a glass of As If "Gratitude" Pétillant-Naturel, available in our shop.