Blending allows winemakers to be creative, highlighting both their unique winemaking style as well as the characteristics of the grapes nature gives them.
Iconic Grape Blends
by Beth Richman
While some grape varieties produce delicious, single-varietal wines, there are some that have met their perfect match and are just better together. Blending is a key step in the winemaking process that allows winemakers to be creative and produce something new, year after year, highlighting both their unique winemaking style as well as the characteristics of the grapes nature gives them. Which grapes go together like peanut butter and jelly? Let's find out!
Cabernet Sauvignon and Merlot
Some of the most well-known and highly regarded red wines come out of Bordeaux, France. These reds are almost always blends dominated by Cabernet Sauvignon and Merlot. Both of these varieties have similar but not identical characteristics so they build on one another, giving us more complex and layered aromas. Merlot traditionally tends to have fewer tannins, less alcohol, and more juicy black fruit notes that complement the fuller body and red fruit notes Cabernet Sauvignon is known for. Because these two varietals do so well together, you can find these Bordeaux-inspired blends all over the world from Italy and the US, to South Africa and Chile.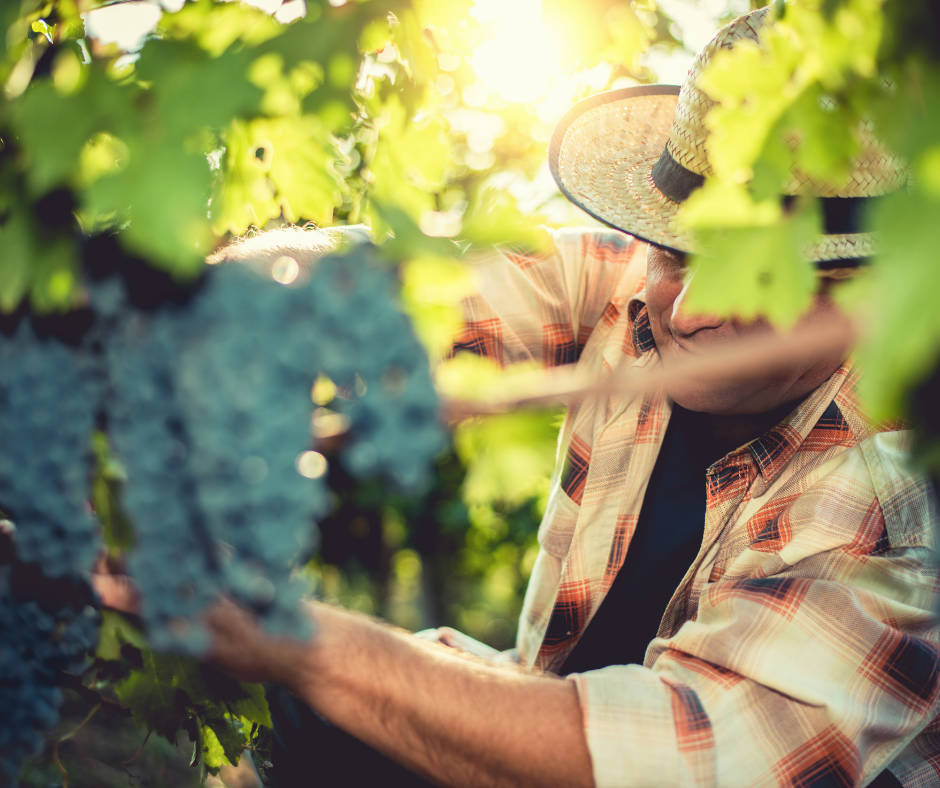 Not only do these two grapes complement each other in the bottle, but they also grow well together. Harvest is a stressful time for winegrowers, determining the ideal time to pick each vineyard and how their staff will handle this monumental task in time. Cabernet Sauvignon tends to ripen later in the season, while Merlot ripens earlier, thus giving the winegrowers the ability to stagger the harvest. This also means that any calamity that hits the vineyard during the growing season may not impact both varietals, allowing the winegrower to still harvest quality grapes.
Grenache and Syrah (and Mourvèdre)
While you can easily find single-varietal versions of both Syrah and Grenache out of both Old World and New World wine regions, one of my favorite go-to, cost-effective wines is a GSM blend. GSM stands for Grenache, Syrah, and Mourvèdre, three grape varieties that are commonly blended in the red wines out of the Rhône Valley in southern France. Though this blend originated in France, New World regions in the USA and Australia adopted this style as well. Why does this blend work so well? Grenache, or Garnacha as it is called in Spain, needs a long, hot growing season to fully ripen, providing alcohol, color, and spice notes to the blend. Syrah adds more meaty, savory notes that add complexity; think aromas of black pepper, smoke, leather, or bacon. Finally, Mourvèdre is a thick-skinned grape, giving the blend more color and tannic structure. Together, GSM blends result in medium to full-bodied wines that possess a delicious mix of fruit, spice, and savory notes, making them food-friendly and "friend-friendly." GSM blends are my favorite recommendation for casual dinners with friends!
Pinot Noir and Chardonnay
This may seem like an odd pair to highlight, but if you are a fan of Champagne and other traditional method sparkling wines, this pairing is paramount. Pinot Noir and Chardonnay both grow well in cooler climates and in many cases, you will find them grown in the same regions - think Willamette Valley in Oregon, Burgundy in France, or Sonoma, California. Because you need grapes with high acidity and lower sugar content to make traditional method sparkling wines, these areas are also known for premium sparkling wine!
The complex winemaking process that gives us the refreshing yet yeasty bubbles benefits from a blend of these two grapes. Chardonnay is a low aromatic grape, which makes it ideal to highlight winemaking decisions, such as sur lie or oak aging. When grown in these cooler areas, Chardonnay will have citrus fruit aromas, crisp acidity, and a lighter body. Pinot Noir is naturally high in acidity and develops nice fruit notes, even with the shorter growing season. Add in the sur lie aging process after the second bottle fermentation and you have a delicious and complex profile. 

Looking for additional iconic blends? Don't forget to try a Sauvignon Blanc and Semillon blend out of Bordeaux, France or Australia. Already tried some of these classic blends? Dive into more region-specific blends! Try a red blend from the Douro in Portugal, a Garnacha-Carignan blend from Priorat, Spain, or a white from Rhône Valley. Find one you absolutely love? Let us know @dcanterwines!