Charcuterie boards are the ultimate food and wine experience. Featured at wine bars and trendy restaurants, it doesn't mean you can't enjoy one at home.
The Ultimate Charcuterie Board
by Matthew Lorman
Charcuterie boards are the ultimate food and wine experience. Featured at wine bars and trendy restaurants, it doesn't mean you can't enjoy one at home. Making one is simple. It starts out with meat and cheeses arranged on a platter and the rest is up to your imagination. Follow these tips and tricks for a charcuterie board that will raclette your world.
Choose Your Board Wisely
Picking the right serving platter is the key to success. Adjust the size of the board depending on how many people and the amount of charcuterie you plan on serving. Smaller cutting boards work great for 2-3 people, while larger boards are more suitable for bigger portions or more people. There are no hard and fast rules when it comes to board selection. Do you have a really cool oversized plate someone gifted to you? Perfect! Remember that charcuterie boards are not only delicious but it's also an opportunity to get creative with the arrangement. Not to mention, they look really good on Instagram. 
Start With The Meats
For smaller boards, a selection of 1-3 types of meat works great. Consider mixing up the types to make a more interesting assortment. Try different flavor profiles like spicy, earthy, and salty. This can be achieved by using meats like spicy salami paired with jamon Iberico and a truffle sausage. Additionally, consider the type of meat you are using. For a fun combination, try bresaola (air-dried Italian beef), duck breast prosciutto, and pork salami. By mixing up the meats, there is sure to be something for everybody. Arrange them artfully on the board by rolling the meat to give your board a sense of height while arranging slices in clean lines to make it aesthetically pleasing. Want to really impress? Check out this tutorial for making prosciutto roses. Who needs a bouquet of flowers anymore?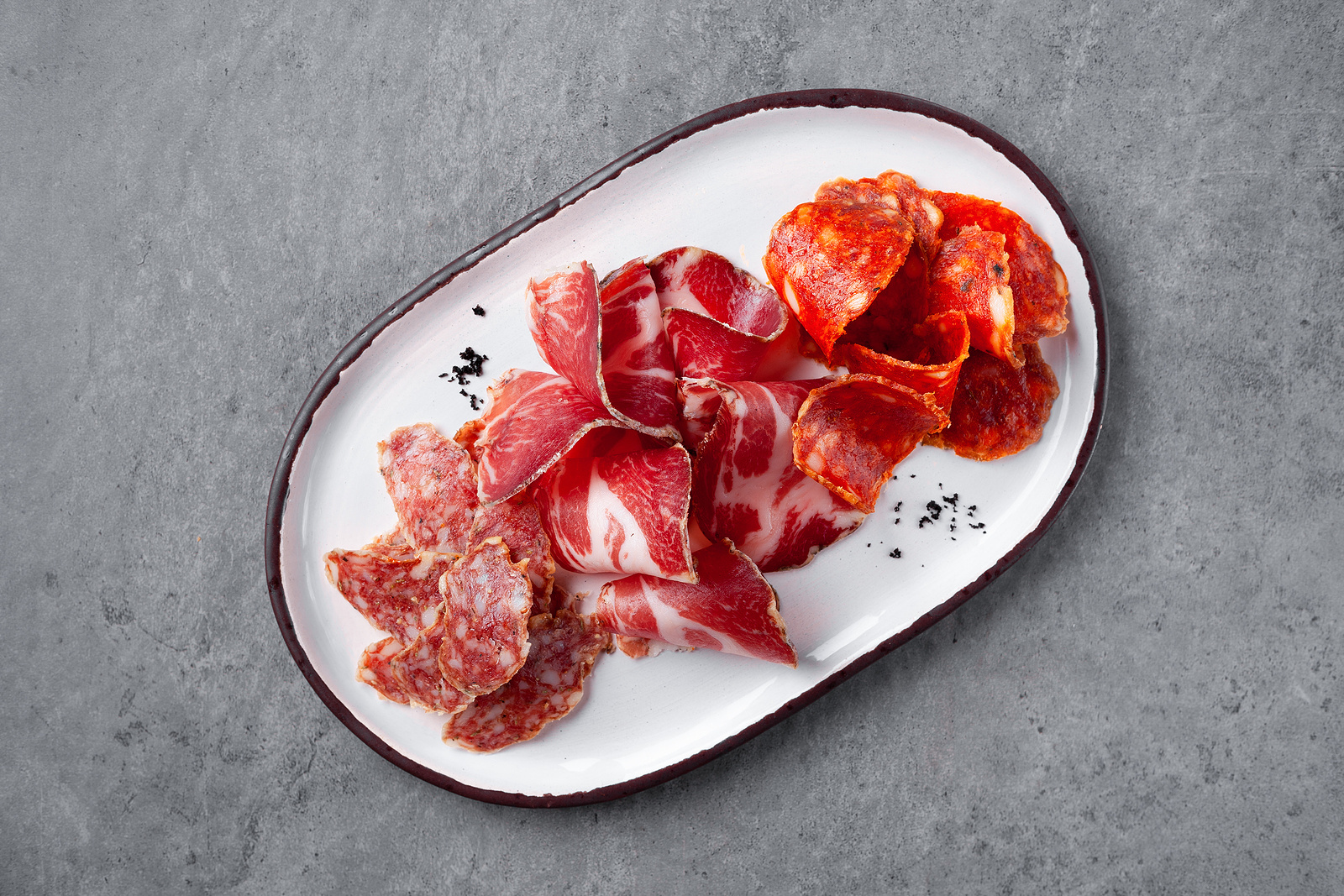 Add the Cheese
Just like selecting the meat, consider mixing up cheese flavors and textures. Pairing a nuttier hard cheese with a soft and creamy one will provide an interesting contrast. A nice trio would be tangy goat cheese (which pairs perfectly with Sauvignon Blanc), nutty Manchego, and creamy burrata. Aside from variety, select cheeses that go with the type of wine. If you're drinking Sauternes or Tokaji, a blue cheese will do just the trick. For more on what cheeses pair well with different styles of wine, check out my previous article on cheese pairings.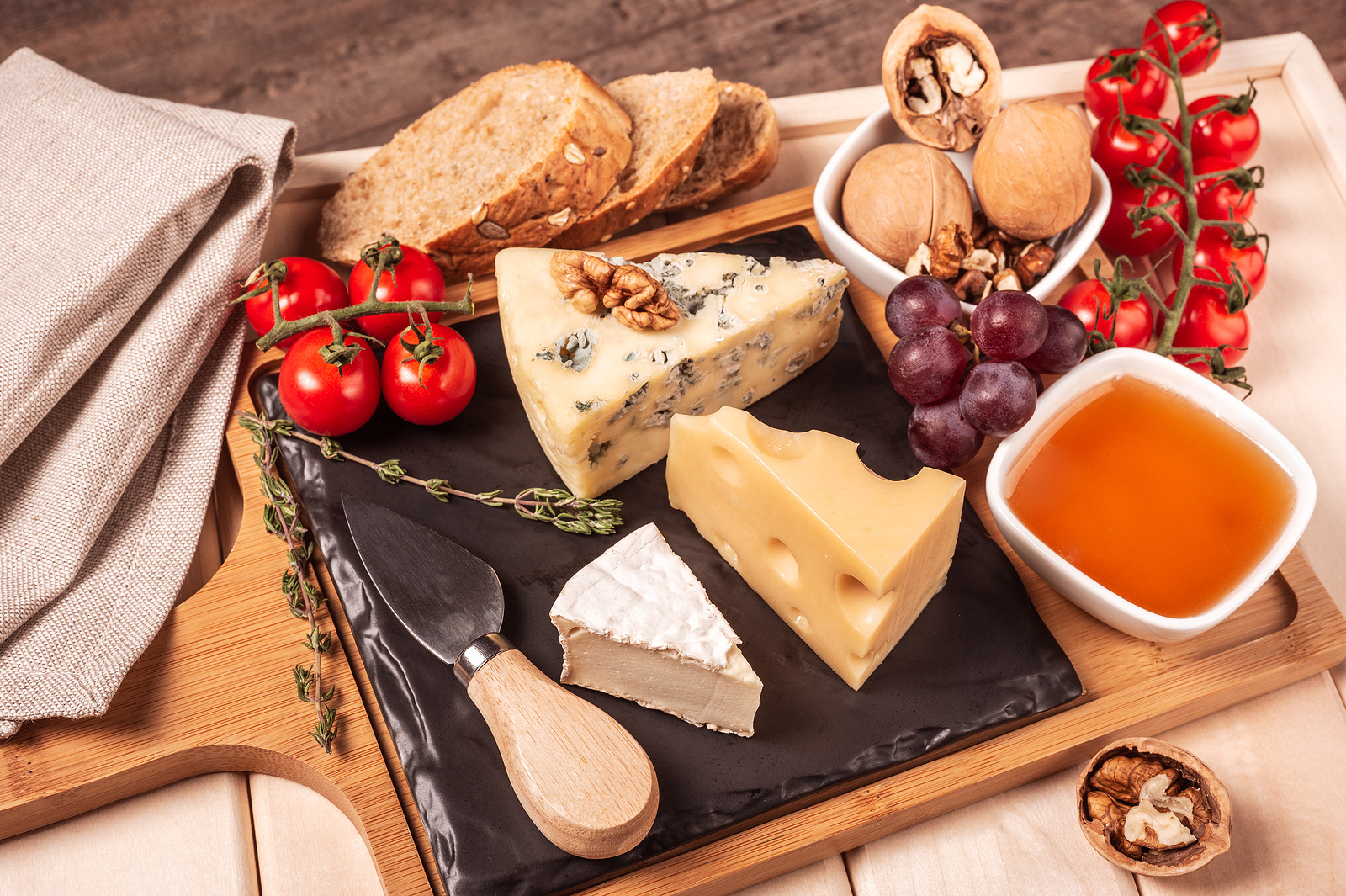 Don't Forget The Fun Stuff
Who says charcuterie boards are just meat and cheese? Zest up your board with fruits and vegetables, nuts, and other fun treats. Some of my favorites are dried apricots, cherries, and sliced apples. These extra items bulk up your charcuterie board and are often less expensive. They add color and texture and a freshness that contrasts the rich meats and cheeses. Items like nuts and olives provide different flavor opportunities--saltiness that enhance wines like Pinot Noir, Syrah, and bolder Rosés. 
One Last Thing
Your board wouldn't be complete without crackers or toasted bread. In order to not take up valuable real estate, place them in a separate dish. This makes room for more of the good stuff!
Now that all the basics are covered, the rest is up to you! Use your creativity to create a your own legendary charcuterie board. Don't forget, we need a picture or it didn't happen. Show us your charcuterie creations and tag us on Instagram (@DCanterwines).