Italy is synonymous with Chianti, Barolo, Barbaresco, Brunello, and its infamous Super Tuscan, but there are tons of lesser-known Italian wine regions worth checking out!
Lesser-Known Italian Wine Regions
by Charlotte Cummins
Italian wines. You know 'em. You love 'em. But do you know just how many Italian wine regions there are to explore? Yes, Italy is synonymous with Chianti, Barolo, Barbaresco, Brunello, and its infamous Super Tuscan. These guys are delicious and definitely deserving of all of the praise, but there are tons of lesser-known Italian wine regions worth checking out! Today we'll cover three regions that we think deserve a little more recognition. Hopefully by the end of this read, you'll have a greater appreciation for Italy's little guys and a list of new wines to try! First stop: Campania.
Campania's most important red grape is Aglianico. It's so dark that it almost appears black with structured tannins and unique flavors of chocolate, leather, and dark fruit, and it is the basis of the area's most famous DOCG called Taurisi. Campania is your one-stop-shop for history, beautiful beaches, and most importantly, wine!
Campania
Located in South-ish Italy on the "shin" or "ankle" of the "boot," Campania (pictured above) is known for being home to Naples as well as the Amalfi coast, its proximity to Mt. Vesuvius, and wineries! It has deep roots in winemaking, with the first vines cultivated back in the 12th century by a combination of Romans, Greeks, and Byzantians. By 79 A.D.,  Mt. Vesuvius's infamous eruption fully decimated the neighboring Pompeii, perfectly preserving its ruins. This eruption enriched Campnia's soil with essential nutrients from the volcanic ash that gives its wines their distinctive flavor. Campania produces both fruit-forward, structured, and tannic white and red wines. Some of its most well-known white grapes are Fiano, Greco, and Fahlangina. Fiano is arguably the region's oldest variety with mention of the grape dating back 2,000 years. Fiano wines are medium-bodied with notes of nuts, honey and tropical fruit. The flavors in Campania's Greco wines (from its Greco di Tufo region) are a direct result of the volcanic soils. Minerality is pronounced and is complimented by notes of lemon, pear and toasted almond.
Lombardy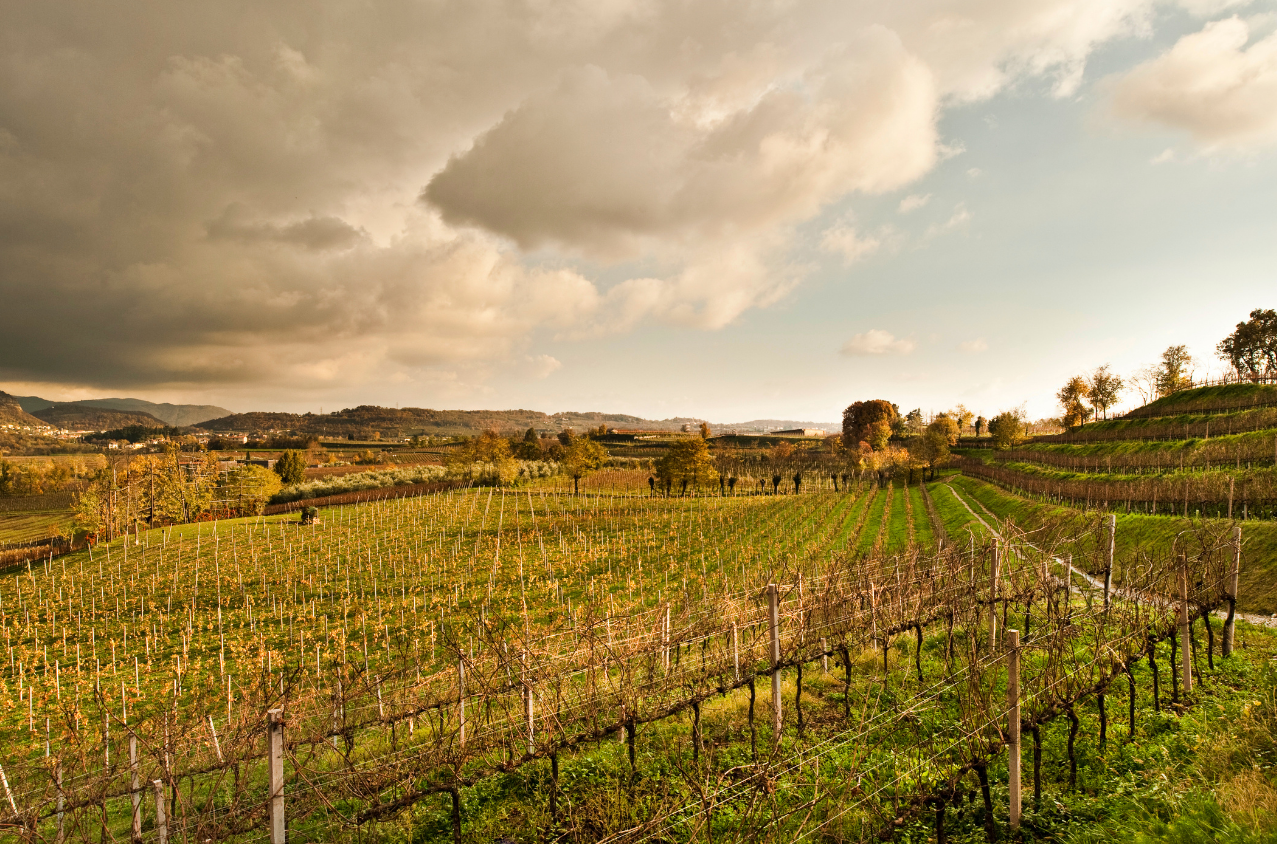 Located in North Central Italy near Milan, Lombardy sits in what is Italy's most populous and industrial area. While the region sits in a crowded metropolitan area, it also contains lots and lots of scenic countryside to hold its wineries. The region isn't famous for one grape, but instead one style. Franciacorta is the Champagne of Italy. Just like Champagne, Franciacorta can only be made with Chardonnay and/or Pinot Noir (although Pinot Blanc is permitted as well). Just like Champagne, Franciacorta wines are made using the Traditional Method (metodo tradizionale). Just like Champagne, Franciacorta is aged on the lees for a minimum of 18 months and up to 60 months. The similarities go on.
Franciacorta can be made in both vintage and non-vintage varieties and may come in white and rosé styles. While Champagne can trace its history back nearly 350 years, Franciacorta has only been around for a mere 50. It was created by the Berlucchi winery in the late 1950's, in an attempt to make a sparkling wine similar to Champagne. It was a success. Shortly after, the Franciacorta DOCG was created in 1967 to make it official. As Lombardian winemakers continue to perfect their beloved Franciacorta, who knows, maybe one day they'll outshine France as the world's foremost sparkling wine producer.
Sardinia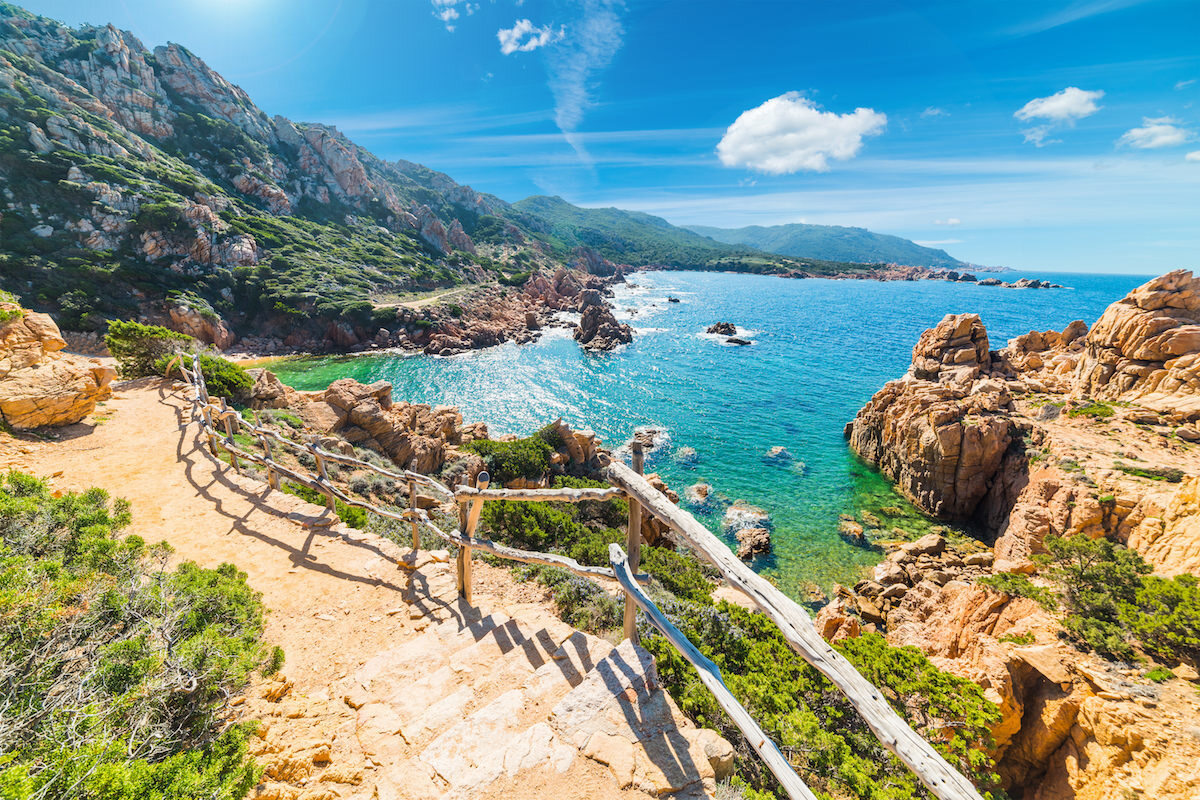 Located way out in the Mediterranean, 125 miles from the Italian mainland, Sardinia's wine and wine culture reflects its separatist history.  Sardinia has been home to and conquered by many different groups over the years from the Romans, to the Byzantians, to the Spanish, and ultimately the Italians; Sardinia is an amalgamation of all of these different cultures. Unlike mainland Italy, wine is less of an integral part of Sardinian culture. A Sardinian is far more likely to be a sheep herder than a winemaker. Because of its diverse influence, there isn't really a "Sardinian wine."
The Island grows many international varieties as well as several local, Italian ones. You are more likely to find grapes of French and Spanish origin (Grenache and Carignan) than any of the well-known Italian grapes such as Sangiovese or Barbera. The grapes most associated with the island are the white grapes Vermentino and Malvasia, and the red grapes Cannonau (which is actually Grenache!) and Monica. While Sardinia's Cannonau is technically Grenache, it has more structured tannins and a bit less fruit. Monica, the other well-known red grape, is a gentler style of wine with low acid, red fruit, herb flavors and a touch of earth.
Sardinia has one of the oldest populations in the world and is said to have more people over the age of 100 than any other country in the world. Their active lifestyles and healthy Mediterranean diets paired with the polyphenols found in their wine are said to be the secret to their longevity! So, go tend to your flock. After a long hard day of herding and shearing, sit down with a tasty glass of Sardinian wine paired with Sardinian foods to reap those health benefits. Or, after a long hard day of work-from-home life, plop down on the couch with that same tasty Sardinian wine, your favorite takeout, and simply relax—that's what we'll be doing!
We hope you learned something new about Italian wine and even found a couple you'd like to try for yourself! Come see us soon or shop online to try these wines.