Big, bold, and beautiful are words frequently used to describe Cabernet Sauvignon. The popularity of this wine is undeniable, being grown throughout the wine-producing world from Chile to China, and everywhere in between.
If You Like Cabernet Sauvignon, Try These Delicious Alternatives
by Matthew Lorman
Big, bold, and beautiful are words frequently used to describe Cabernet Sauvignon. The popularity of this wine is undeniable, being grown throughout the wine-producing world from Chile to China, and everywhere in between. This grape, arguably the most popular red wine grape in the world, is a natural cross between Cabernet Franc and Sauvignon Blanc. Chalk it up to good genes, this natural cross has made a name for itself amongst wine lovers throughout the world. While its historical roots are firmly planted in France, Napa Valley and other areas have single-handedly built a reputation purely off of this grape, increasing its popularity even more. There is no doubt that the reputation of this grape is here to stay. However, if you are looking to shake up your wine picks, or are just tired of the same old Cabernet Sauvignon, keep reading. There is plenty of fish in the sea to choose from. Whether you prefer it to be big and juicy, or refined and earthy, there is a Cabernet alternative for everyone.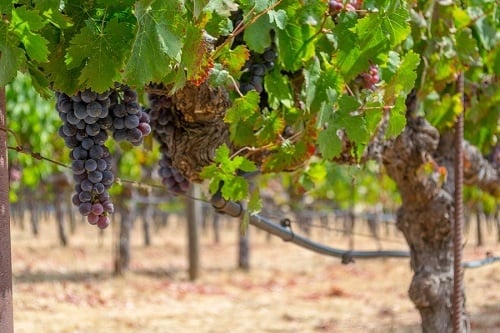 Before we get into the nitty-gritty of Cabernet Sauvignon alternatives, it is important to understand that there are many different styles of Cabernet out there. Cabernet Sauvignon is like the chameleon of red wines in that it really adapts to the region it grows in. In general, Cabernet Sauvignon is characterized by being medium to full-bodied, with higher levels of tannins compared to most wines. Without generalizing too much, there are two different styles of Cabernet Sauvignon, and the flavors may vary quite a bit.
Let's divide our discussion into blends and single varieties. In the Old World (mostly Europe), Cabernet Sauvignon has traditionally been used as part of a blend--think Bordeaux or "Super Tuscans". From a historical perspective, using different grapes as part of a blend was like an insurance policy for winemakers. The different grape varietals ripen at separate times so the grape growers are protected in the event of an unforeseen circumstance that might affect the harvest. In these blends, Cabernet Sauvignon provides power, structure, and intense fruit flavors like blackberry, plum, and dark cherry. In places outside of Europe, Cabernet Sauvignon is more likely to be labeled as a single varietal, although it is important to mention here that in California, a wine labeled as Cabernet Sauvignon legally only has to contain 75% of the stated grape on the label. That means that other grapes slip into the blend under the radar. In the New World, Cabernet Sauvignons tend to be riper and more fruit-forward, having less acidity compared to their Old World counterparts. Whether you are a fan of the old or the new, there is a Cabernet alternative for you. Expand your palate and read on to find something new and delicious to try. Here are wines that make great alternatives to Cabernet Sauvignon.
Tempranillo
Are you looking for big flavor? Tempranillo has just that. If you like the wide range in styles that Cabernet Sauvignon is capable of expressing, this grape is going to be your new favorite. From the fresh and fruity, to the bold and savory, this grape has got it all. Found primarily in Spain and Portugal, Tempranillo goes by a multitude of monikers: Tinta del Toro, Tinto del Pais, Tinta Fina, Tinta Roriz, and Aragonez, just to name a few. It has the ability to be made into fruit-forward wines as well as those with prominent oak influence. The more fruit-forward versions display notes of cherry, fig, and plum, while the oaked versions display similar fruit notes in addition to cedar, leather, tobacco, vanilla, and clove. These oaked versions are capable of being aged for 20 years or more. Bolder styles of Tempranillo, just like Cabernet Sauvignon, are a perfect pairing for a steak dinner, while the fruitier styles lend better to lighter fare, like a tomato-based pasta dish or even vegetarian fare. Pro tip: If you want fruitier style tempranillo, be on the lookout for wines labeled Joven or Crianza, as these wines see very little oak influence. If oak is your thing, look for Reserva and Gran Reserva wines that see longer exposure to oak, resulting in a bolder flavor profile.
Wines to Try:
Martin Berdugo Ribera del Duero Joven 2016 (Ribera del Duero, Spain)
Bodegas Luis Cañas Rioja Crianza 2015 (Rioja, Spain)
Bodegas Vizcarra Ramos Torralvo 2016 (Ribera del Duero, Spain)
Mourvèdre
Get ready for a flavor powerhouse. Mourvèdre, popular in the Provence and Bandol regions of France and throughout Spain, is gaining a following throughout the rest of the world. Other identities for this grape include Monastrell in Spain and Mataro in Australia. If you have ever tasted a wine from the southern Rhone Valley, chances are you have already experienced Mourvedre as part of a blend in wines such as Côtes du Rhône, Châteauneuf-du-Pape, and Gigondas. As a single varietal, this is the perfect wine to pair with smoked meat and barbecue as the smoky elements play nicely with grilled flavors. As part of a blend, it adds a layer of earthiness, as well as additional color and tannin boost to a wine. The wine's smoky notes, combined with black fruit and chocolate make for a complex flavor experience that will convert you into a Mourvèdre aficionado.
Wines to Try:
Château Simian Combe des Avaux Rouge 2016 (Rhône Valley, France)
Tim Smith Mataro 2018 (Barossa Valley, Australia)
Château Festiano Minervois 2018 (Languedoc, France)
Tannat
If you want something with power, structure, and complexity, look no further than Tannat. Originally from South-West France, this grape has found a new home in Uruguay, where it is the top red wine produced in the country. This wine is full of black currant and plum notes, rounded out by nuances of licorice, smoke, and cardamom. If that tickles your taste buds then fire up your grill. The tannin in this wine allows it to cut through fattier cuts of meat, making for the perfect pairing for South American-style barbeques.
Wines to Try:
Bodegas Carrau Tannat Ysern 2016 (Uruguay)
Aglianico
Be bold with this next Cabernet Sauvignon alternative. Aglianico is grown primarily in the Campania and Basilicata regions of Italy and is often overlooked by wine drinkers. This wine is rich and meaty boasting a unique and complex flavor profile consisting of black cherry, white pepper, spiced plum, and hints of smoke. Aglianico is bold and is demanding a spot on your dinner table. Generally, these wines tend to have higher levels of tannin so be on the lookout for older vintages that have had time to age and allow the tannins to mellow a bit. Pair it with game dishes, pasta with bolognese sauce, or lamb shanks, and start off your Italian love affair with this wine.
Wines to Try:
Capolino Perlingieri Sannio Brizio Aglianico 2018 (Campania, Italy)
Cantine Matrone Lacryma Christi Rosso 2017 (Campania, Italy)
Are you up for the challenge? Stop by DCanter and pick up a bottle of wine you have never tried before. These picks are sure to broaden your personal wine repertoire, so make room for your new favorites. What is your favorite Cabernet Sauvignon alternative? Tell us on social media and tag in a picture with your favorite bottle on Instagram (@DCanterwines).